The easiest way to make play dough at home
The easiest way to make play dough at home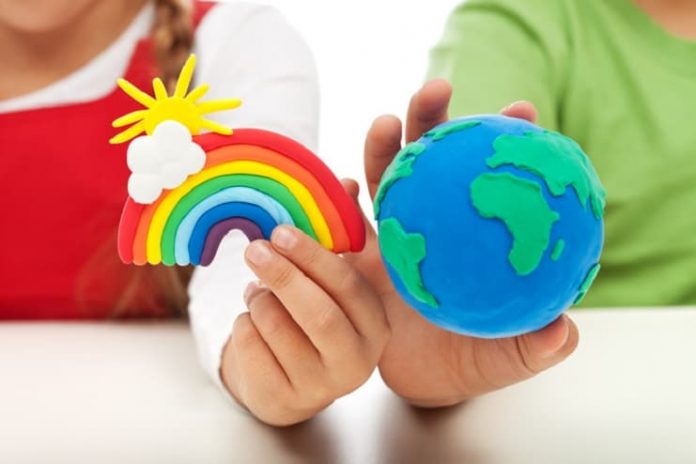 By making play dough at home, you can contribute to the development of fine motor movements with peace of mind while developing the hand skills of young children. Children usually love to play with soft, colorful dough. Instead of buying ready-made for some reasons, families may prefer to make these doughs in the home environment. It comforts the parent to know what to add to the dough in the safe environment of the house.
Why should I choose to make play dough at home?
The most common behavior young children do is to put everything they find in their mouths. When playing with colorful dough, children can sometimes take a piece to their mouths to taste. Especially if the child has a disease such as allergies and celiac, it may be undesirable for his health to lick even the dough that is transmitted to his hands. In young children, sometimes even a trace amount of a substance can trigger an allergy.
For all these reasons, we have prepared a recipe for families who want to make gluten-free play dough at home. We also have a gluten-containing recipe that can be made from regular flour. You can make this play dough at home in 10-15 minutes. It can last about 2 weeks, depending on the use. Playing with the same dough too often is not a good situation for the child's health, because the contaminated dough carries bacteria, so it becomes a ball of bacteria as the time of use is prolonged. You can change these doughs frequently by making them at home.
Making play dough at home (Normal)
Ingredients
1 cup of flour
Half a teaspoon of salt
2 teaspoons of tartar cream (It can be found in herbalists, there are even packaged organic ones. A kind of cake material)
1 cup of water
1 tablespoon vegetable oil
Food coloring (optional)
Preparation
Put all the ingredients in the saucepan except the food coloring and mix well.
Place the saucepan on the stove and cook over low heat, stirring the dough.
When it has the consistency of custard, you can drip 10-15 drops of food coloring in the desired color. Then proceed to mix.
When the dough has the consistency of a full play dough, lower it from the heat and wrap it in a non-stick baking sheet and let it dry and harden slightly. If it's not too hot, you can also wrap it in aluminum foil.
Your dough is now ready. You can play.
How to make gluten-free play dough?
With this recipe you get dough the size of 1 handful. You can increase or decrease the amount as much as you want to do.
Gluten-free play dough ingredients
1 teacup baking soda
1 1/2 cups water
1 teacup cornstarch (it can also be corn flour but it becomes a little lumpy and cracking)
Food coloring (If you want to make it colorful, you can add food coloring)
Preparation
Put all the ingredients in a saucepan and mix. Cook over medium heat, stirring with a wooden spoon.
Stir until the mixture boils. Small lumps will begin to appear. Continue stirring until a thick mixture is formed.
When the dough ball is lumped and formed, stop cooking and take the spoon and dough ball to the counter.
Let it cool. Knead well for a minute or two, giving the dough a consistency. When it cools down, it can now be played with the dough.
When you're done, you can put the dough in a plastic ziplock bag or wrap it in cling film. The important thing is that it is wrapped in a way that does not take air. If the dough gets air, it will begin to dry and crack, as it will lose its moisture.